Speakers
David Lloyd

Chair, Association of Police and Crime Commissioners and Police and Crime Commissioner for Hertfordshire
David Lloyd was elected as Police and Crime Commissioner for Hertfordshire in 2012, and was re-elected again in 2016. He is the Chair of the Association of Police and Crime Commissioners and also a member of the National Criminal Justice Board. He leads on the criminal justice portfolio for the APCC, and also chairs Hertfordshire's Local Criminal Justice Board.
His most recent Police and Crime Plan focuses on reform of the criminal justice system, where he would like to see greater local accountability, and a joined up approach to community safety. He is also one of the first Police and Crime Commissioners to propose taking over governance of his local fire and rescue service. Prior to his election as PCC, David was the deputy leader of Hertfordshire County Council, alongside a role as borough councillor in Dacorum. In that time, he served as chair of the Hertfordshire Police Authority and was the executive member for the
Fire and Rescue Service at the county council. His first elected position was as a borough councillor in Milton Keynes. His first career was in banking working for Lloyds in a variety of roles and he then moved on to be a financial advisor. He has a degree in French Language and Literature from the University of Birmingham, and is a Fellow of the Royal Society of Arts. He is married with two children.
---
Chief Constable Sara Thornton CBE QPM

Chair, National Police Chiefs' Council
Sara Thornton is the first Chair of the National Police Chiefs' Council. Sara joined the Metropolitan Police Service in 1986 and over the next fifteen years her career alternated between operational postings in West London and strategic roles within New Scotland Yard. She served with Thames Valley Police as Assistant Chief Constable, Deputy Chief Constable and Acting Chief Constable before holding the role of Chief Constable for eight years until March 2015. She has also been Chair of ACPO Intelligence Portfolio, Vice-Chair of ACPO Terrorism and Allied Matters, Director of the Police National Assessment Centre and ACPO Vice-President.
Sara is a member of the Royal College of Defence Studies, the Advisory Board for the Oxford University Centre for Criminology and the International Advisory Board for the Cambridge Executive Police Programme. She is a graduate of Durham University, also holding a Master of Studies (MSt) degree in Applied Criminology and Police Management from Cambridge University alongside honorary doctorates from Oxford Brookes University and Buckinghamshire New University. Sara was awarded the Queen's Police Medal in 2006 and made a Commander in the Order of the British Empire in 2011. She has also been recognised with a Career Achievement Award from the Police Training Authority Trustees and the Sir Robert Peel Medal for Outstanding Leadership in Evidence-Based Policing.
---
Diane Abbott MP
Shadow Home Secretary
In 1987 Diane Abbott made history by becoming the first black woman ever elected to the British Parliament. She has since built a distinguished career as a parliamentarian, broadcaster and commentator. Upon leaving Cambridge, where she obtained a Masters Degree in history, Diane joined the Home Office as a civil servant. She went on to work for the lobby group The National Council for Civil Liberties before moving into journalism.
From the outset of her career, Diane has championed global justice, human rights, peace and security issues at home and abroad. She has been a vocal campaigner around race-relations, transparency and justice around policing, surveillance, Stop and Search, and detainment without trial, as well as a key advocate of proportional representation.
She was elected onto the National Executive of the Labour Party and, for most of the 1990s, served on the Treasury Select Committee. In 2015, Diane was re-elected to her Hackney North and Stoke Newington constituency with a landslide majority and, in September 2015, was appointed Shadow Secretary for International Development. Diane then went on to become Shadow Secretary for Health and is now the first black female Shadow Home Secretary.
---
Commissioner Cressida Dick CBE QPM
Metropolitan Police Service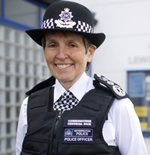 Cressida Dick has 34 years of public service, the majority of which she has spent in policing. She has held leadership roles in each of the organisations she has worked in, the Metropolitan Police Service, Thames Valley Police, the National Police College and the Foreign and Commonwealth Office. Cressida has overseen a wide variety of high-profile and complex policing investigations spanning serious and organised crime, security and protection.
Cressida was the first woman to be appointed a Metropolitan Police Assistant Commissioner in 2009. From 2011 to 2014 she was in charge of UK counter terrorism policing, leading operational security and counter terrorist operations for The Queen's Diamond Jubilee and the London 2012 Olympics.
In 2014 Cressida joined the Foreign and Commonwealth Office senior leadership team. In February 2017 Cressida was appointed Commissioner of the Metropolitan Police Service. On 10th April 2017 she was re-attested as a police officer before taking up her role as Commissioner, leading the UK's largest police service.
Cressida is former president of the British Association of Women Police and has a Master's Degree in Criminology from Cambridge.
---
Dame Louise Casey DBE CB
Author of the Casey Review into Opportunity and Integration
Over the last 18 years Dame Louise has been instrumental in the development of a number of bespoke social policy programmes for Government. Drawing on her experiences leading homeless charity Shelter, Dame Louise has consistently delivered brave and innovative solutions to long standing social problems ranging from homelessness to anti-social behaviour to troubled families.
At the request of the Prime Minister, she led a review into integration in the United Kingdom published December 2016.
Throughout this, Louise has maintained her commitment to the charity sector and has been a driving force in the establishment of the Institute for Global Homelessness, with the aim of delivering an international solution to homelessness across the world.
She left the civil service in July 2017 to step up her work for the Institute; joined Kings College London as a Visiting Professor and the London School of Economics as a guest lecturer.
Dame Louise was awarded the Companion of the Order of Bath (CB) in the Queen's birthday honours list, 2008 and made Dame Commander of the Order of the British Empire (DBE) in the Queen's birthday honours list, 2016.